While we are, indeed, in the midst of high summer, fashion is all about looking forward. So while you're busy burying your toes in the sand, filling your basket tote fit to burst with factor 50, beach towels and the like, we're going to provide you with a little snippet of what you can expect next season here at Kurt Geiger.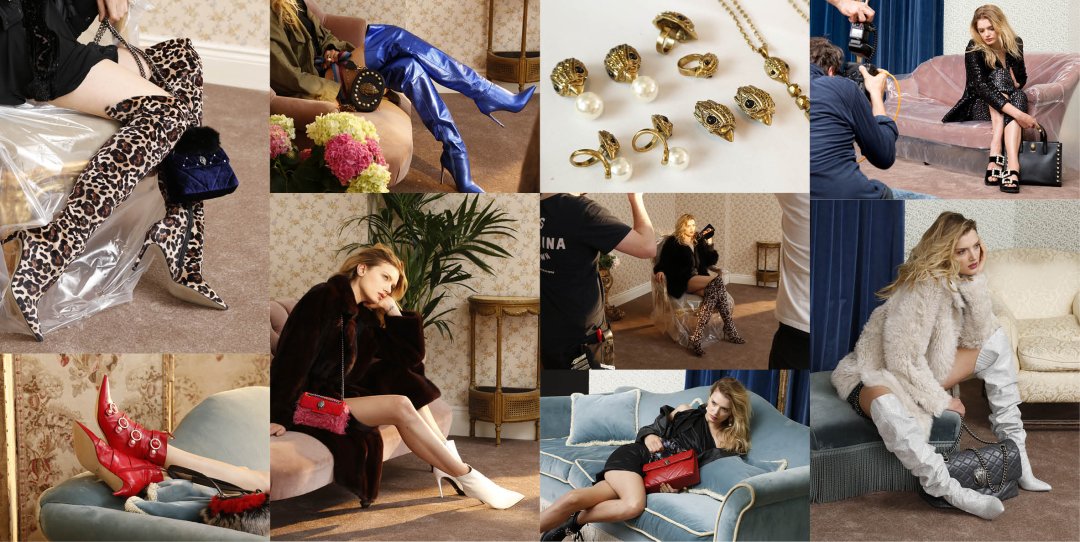 Suited & Booted

We take our boot game very seriously here at KG HQ. Be it a pair of beaten up biker boots or a full-on thigh high situation, we've got some corkers in store for next season. A word of warning: AW17 isn't for the faint hearted. It's go hard or go home, with names to match. Enter 'Vita', 'Violet' and 'Vallence'. Quite frankly, the baddest boots you'll ever be able to get your hands on (and pins into). Think slouchy, statement Pretty Woman-esque kicks in electric blue, silver and leopard print. Just YES.

On the ankle boot front it's all about crisp white numbers, with a sharp, pointed toe. The 'Sparky' style has a real eighties feel, armed with gold hoop buckles and an on-trend kitten heel (yes, low heels are still a thing. Cue cheers). Kurt Geiger London's 'Ride' boots are an unapologetically sexy, stiletto. Amazing with bare legs and an eighties-inspired mini dress. Equally good with skinny jeans and a leather jacket. You'll all be pleased to hear that KG's 'Strut' boots are back due to popular demand. A favourite of Kendall Jenner, you can't go wrong; they're comfy, stylish and the chunky, ombre heel is just delicious.

Fancy Flats

We've got a lot of time for a towering heel, but don't let anyone tell you that you can't make a statement in a flat. In fact, if you aren't a heel devotee, or, if you simply need to up your flat game for the office or smart-casual 'do's, you're in for a treat. The 'Khloe' loafers are our take on the party flat for next season. Complete with jazzy bows and available in navy and a pink/black combination, these are crying out to be paired with black cigarette pants and a chic blazer. Complete the look with one of next season's Kensington bags. The 'mini', eagle print version is the only companion you'll need by night this winter.

Sneakers haven't escaped the embellishment theme either. A darn good thing too because, as a result, we have the 'Lippy' trainers, armed with studs and stars, as well as the pearl ridden 'Orla' slip-ons. And just because the temperature's bound to drop (significantly) doesn't mean you can no longer sport a slide. Oh no. The monochrome 'Candy' and 'Kirsty' styles are going to work just as well with a sock this winter. 'Twas all the rage on the catwalk – promise.


All Hail the Heel

Next season's stilettos are all about the detail. The courts come complete with glitz and embroidery and the sandals are strapped with words of wisdom (see our 'Hex' love beauties for some AW17 romance). Of course, there's still something for everyone. The minimalists amongst you with find comfort in our selection of 'Ellen' and best-selling 'Alice' courts. But it's those with a bit more flare in their foot that are really going to enjoy the fruits of next season's treasures. Stand out styles include KG's 'Bounty' courts and Kurt Geiger London's 'Soar' platforms. The latter are adorned with our signature eagle head that you'll find on the 'Kensington' bags and, for the first time, jewellery too. Even on a balmy day like today, don't tell us we haven't got you just that little bit excited for Winter…


Click To Preview