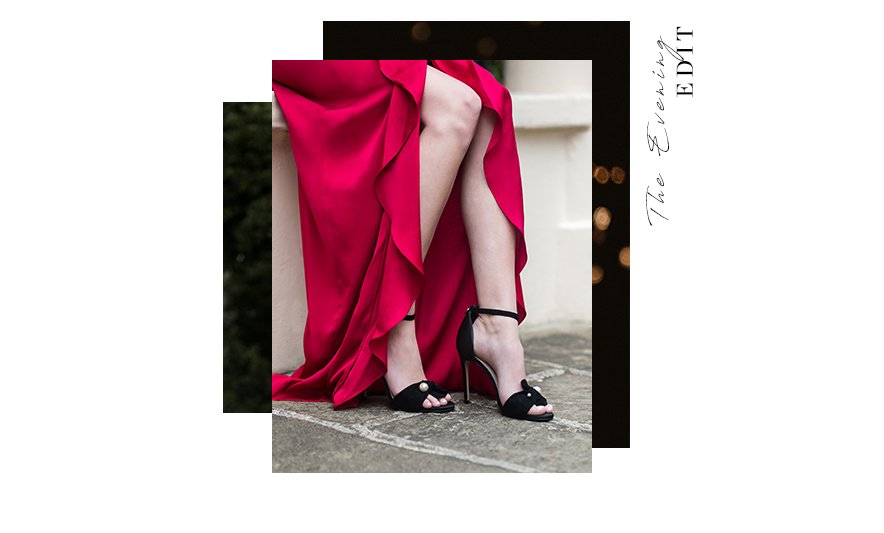 Summer nights are a lovely time to get dressed up. Having spent six months' worth of Saturday evenings shivering in black skinny jeans and boots, being able to bare a bit of leg and experiment with colour is a treat that we're welcoming with open arms. Footwear can be trickier. At what point in the evening does it become inappropriate to be wearing a pool slide? Can sandals act as a party shoe? We've got all conundrums covered.


Dress Flat

Contrary to popular belief, summer sandals can work as evening wear. We're not talking black tie functions. For those you'll need something a bit more special (see further down). But for dinners, cocktail parties and even some work events, find the right sandal, and they can be the perfect tool via which to complete your evening look. If it's a flat you're after, go for something with a bit of a jazzy finish. We love Carvela's 'Kliff' sandals, armed with gold embellished studs, paired with a colourful maxi dress or even cropped trousers and a lightweight, linen blazer they'll add a sophisticated, bohemian edge. Keep your look chic and event-appropriate with Miss KG's 'Hoop' clutch. If you're someone who needs just that little bit of a heel to feel well put-together, opt for Carvela's 'Sadie' tan sandals. For something light and evening-appropriate for men, we'd opt for a dark trainer. KG Kurt Geiger's 'Earl' trainers are light and comfortable but thanks to their dark hue have an air of evening-chic about them.

Holding Court

Summer evening event-dressing is all about the nude court. Mainly because they instantly elongate the leg (cue cheers!) but also because they perfectly compliment almost all party dresses. Minimalists will appreciate Kurt Geiger London's classic 'Ellen' pair, which do exactly what they say on the tin. For something a bit more fashion forward try Carvela's 'Kankan' studded, t-bar courts. And, because we know that they'll always be a few people who simply can't resist a touch of glitz, the 'Ellen' style also comes in dazzling silver – ideal for smarter soirees. A great tassel loafer is where it's at for the boys in this instance. The 'Ashton' tan or 'Kesgrave' wine styles are great alternatives to black for summer. Or if tassels aren't really your thing, opt for KG Kurt Geiger's slick 'Gingers' loafer.



Strap-In

Few shoes shout SUMMER quite like the strappy heeled sandal. It's all-out glamour, party-girl territory and we're all over it at Kurt Geiger. Let your feet do the talking in KG's 'Hex' heels, perfect for dressing up your fail-safe LBD and giving it a summer night's spin. Or get your fluff on with Miss KG's 'Sasha' sandals. These furry delights will have everyone talking and look great with jeans come the cooler summer evenings. Skinny stiletto heels not for you? Fear not. Miss KG's 'Pia' wedge sandals bring the fun AND are armed with ultimate comfort. These are ideal holiday heels, too – ready to take on cobbled streets – no problem, and we haven't forgotten about the blokes. It's time to get in on the boat shoe here. Less smart than a loafer and not as casual as an espadrille, this is your mid-way must-have that'll take you from picnics to dinner and beyond.

Shop Party Shoes