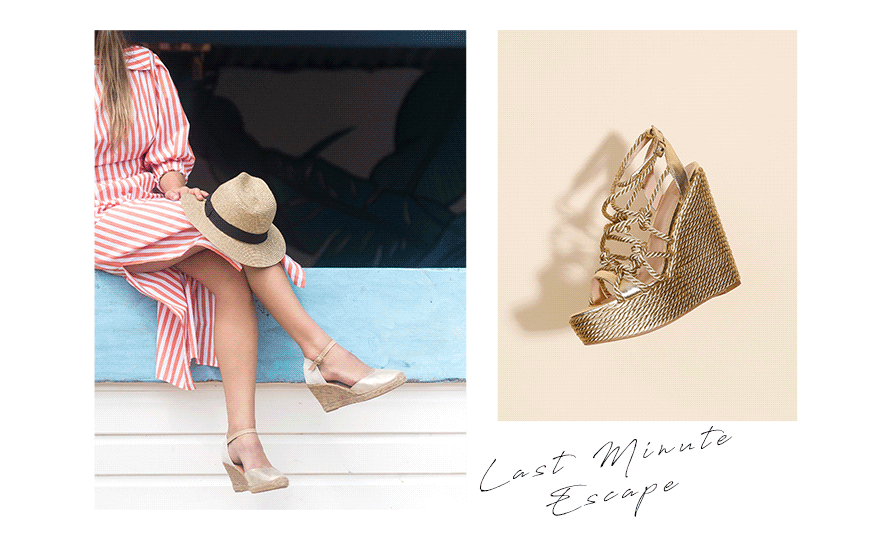 We've all been there. You loosely discussed an exotic getaway with your partner, pondered a potential party holiday with the girls, and even considered scraping in on your parents' summer plans as July drew to a close. Alas, for whatever reason, you didn't quite get down to the nitty gritty and it's going to be an excursion at the eleventh hour at this rate. The good news is there's no need to panic. Often the best trips are those organised spontaneously and, more importantly, we've always got your back when it comes to sensible panic shopping. Yes, there is such a thing and here's how to go about it this summer.
Slide Pride

The good thing about starting your summer shop a little late in the day is that we can report back on what the hot hits are, right now. Want in on THE shoe of the summer, the one selling like hot cakes? No shoe has experienced success quite like the slide for summer '17, and we've got a whole host of different styles to suit your every need. There's the classic pool slide (not without a touch of Kurt Geiger magic, of course) in the form of Carvela's 'Kit' sliders. These are the ultimate in easy resort wear. For slides you can go summer strolling in, opt for our 'Kake' flatforms, Super comfy, these have proved popular, perhaps due to the fact that they look fabulous with pretty much everything. Looking for something that's going to work from day to night? Meet the slide-come-mule (we may or may not have just revolutionised everyone's summer wardrobe with, WAIT FOR IT, a SMULE…). Yes, Kurt Geiger's 'Naomi' is the slide that looks just as good by day with a ditsy dress as it does by night with an LBD, thanks mainly to its gorgeous pearl embellishment. FYI, pearl embellishment: BIG news for next season. Stock up now and thank us later.

Espadrille Thrill

This isn't the first time we've emphasized the brilliance of an espadrille but there's always a few stragglers who take that little bit longer to climb on board. Now that you've finally booked your getaway, there really are no excuses. KG Kurt Geiger's 'Mellow' flats are perfect for travelling in, while Miss KG's 'Dizzy' kicks have been a huge hit this season. Sucker for a bit of colour? Get the latter, armed with neon pink and orange trim. The ankle ties mean they're easy to walk in and, once you're actually on your hols, out of office turned on n' all, pair them with one of this summer's biggest trends: the ruffled midi dress. Trust us, it's the look of summer '17.



It's all in the Tote

The 'Violet' Tote is one of our best-selling bags, and when it comes to last minute packing, there are no two ways about it, this one's an essential. Whether you're after that little bit of extra packing space in which to squeeze one last pair of shoes, or simply a spacious, stylish bag via which to cart your beach belongings, the Violet is one of those eternally useful hold-alls that always seems to have room for one more thing. It's made from super soft leather and comes in more colours than even the pickiest shopper could hope for (our summer favourites are white and silver). For something super luxe, just in is a special addition to our ever-expanding Kensington Collection: the 'Lurex Kensington' Tote, complete with gold chain and a metallic, quilt finish. This one's got jet setter written all over it. So even if you haven't yet managed to hit the beach and you've yet to crack open a bottle of rose, pool-side, this sparkly companion won't give you away. So there you have it. Get booking, get shopping, get sunning. In that order.
Shop Wedges