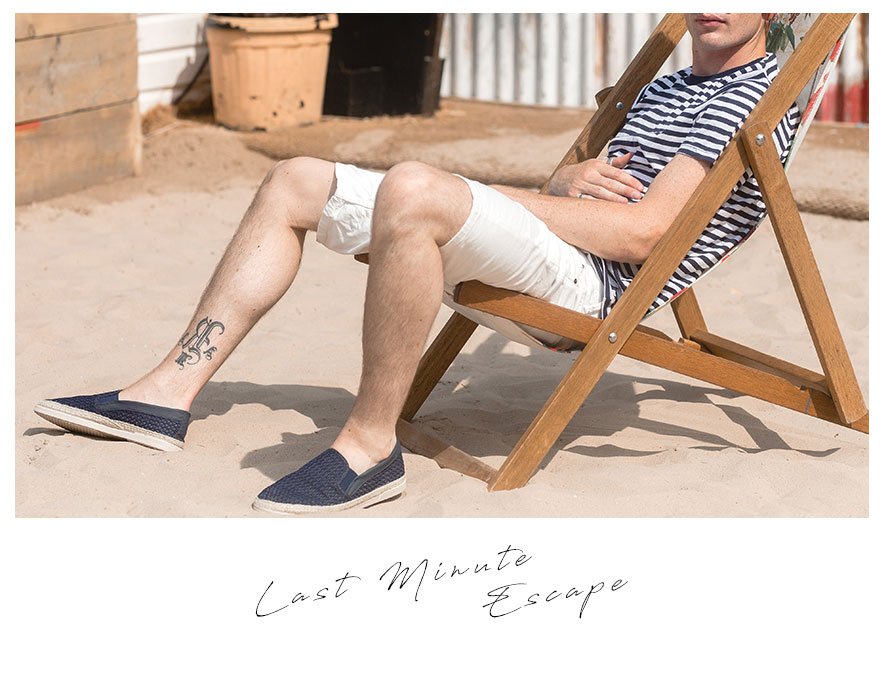 There are plenty of go-to's for men in terms of summer footwear. Think boat shoes, sandals and slip-on sneakers. But right now, there are two stand out styles swiftly defining summer '17. Slides and espadrilles are making waves in men's fashion, and if you haven't yet gotten around to making room for them in your wardrobe, fear not. There's no time like the present.


That Espadrille Thrill

No shoe says summer quite like the espadrille. With its raffia sole and canvas coverage, your holiday wardrobe simply isn't complete without them. When it's too hot for trainers but flip flops and sandals are just that little bit too casual, only an espadrille will do. And where five years ago, men's espadrilles may have been considered fashion-forward, they're now a wardrobe essential, a sartorial classic for a summer's day and we've got the stats to prove it. The beauty of the espadrille lies in its versatility. They look equally as good with a pair of tailored shorts and a polo as they do with slim fit trousers and a linen shirt. You can dress them up, dress them down, and let's face it, if they're good enough for Rio Ferdinand, we're all on board.



Let it Slide

From David Beckham to Justin Bieber, celebrities just can't get enough of the classic pool slide. But perhaps there are still a few lingering cynics amongst you, who aren't quite convinced. Allow us to explain the beauty of the slide. First and foremost? The comfort factor. You're literally never going to find another shoe that so closely resembles a bedroom slipper that is also acceptable to wear outside of your own home. No laces, no faffing, no fuss. Secondly, they're cool without being try-hard. A lot of men find proper sandals hard to pull off, and they can be difficult to team with your everyday looks such as jeans and a t-shirt or swimming trunks and a casual shirt on holiday. Slides encompass the feel of a sandal but are also armed with that tough, masculine edge and an overall sense of effortless cool. Last and most certainly not least, there's a style to suit all. If you tend to channel quite a minimalist look, and find yourself regularly incorporating neutral tones into your day-to-day look, opt for the pink 'Lydd' slides. These are about as chic as pool slides get and go with everything. If you're partial to something a bit jazzier, why not do a bandana print, or even a slogan slide? We've got a bit of a soft spot for KG's smoking 'Flame' numbers.

Go on, strike while the iron's hot!
Shop Sandals