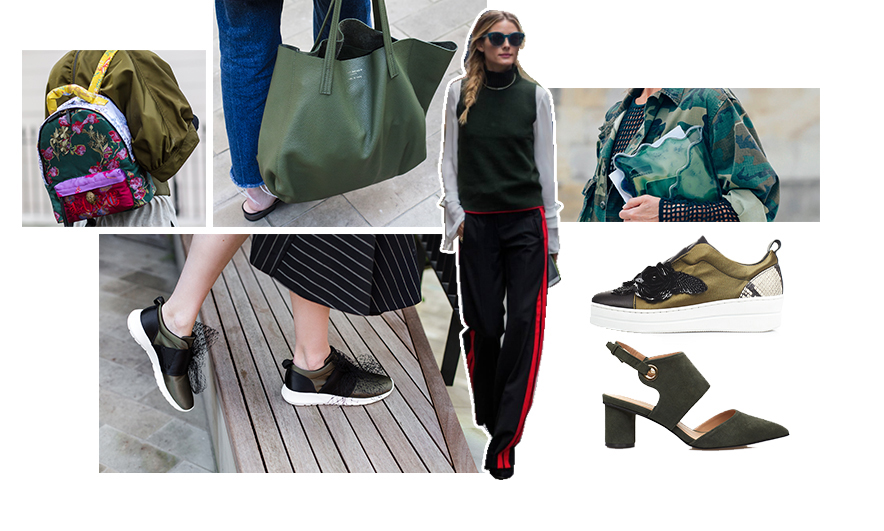 This season's military trend is not the story of a fad that requires you to wear heavy stomping boots and utility trousers and suddenly proclaim that Lara Croft from Tomb Raider is your style icon. Because although there is definitely more than a hint of the military hitting us for SS17, it comes with a heavy dose of glamour and femininity, phew!

The catwalks were full of utility-wear, particularly the oversized overcoats that street style stars have been wearing over frills, lace and sparkles and teaming with statement jewellery for a less-literal look. The key colour for this trend is that gorgeous, rich olive green, naturally. The best bit? Olive looks great on everyone, and goes with absolutely everything in your wardrobe. Which means you've got no excuse not to get on board with the idea. Winner!

Of course, wearing military-style clothes isn't for everyone - those huge coats can be tricky to wear if you're not a supermodel and only the edgy among us is going to attempt actual camouflage print - but ticking the trend box with your accessories is a simple way of doing it without feeling in any way OTT. You can add little military styling tricks, like wearing army green heels with blood-striped trousers (Olivia Palermo is a fan of this look), or keeping your palette to uniform shades of green, navy and red. And you can avoid any army connotations completely if you'd rather just have a hint - just pick a pair of shoes or a bag in that fantastic green hue.

Training corps
Long gone are the days when your trainers were just borrowed from the gym; now they're a true fashion item in their own right, and never more than when they come in THE colour of the season and with couture-style netting to boot.

Tote tactics
With its butter soft leather, beautiful bag is way too good to just use as your average tote. We like to organise all our stuff by using smaller zip pouches inside - have different ones for your make-up, paperwork, electronic stuff - as it means our handbag works with military precision!

The rucksack of dreams
If you are going for the green army jacket look, try injected some serious femininity with the rest of your outfit. We can't think of anything better than this oriental-inspired backpack.
Shop New Arrivals