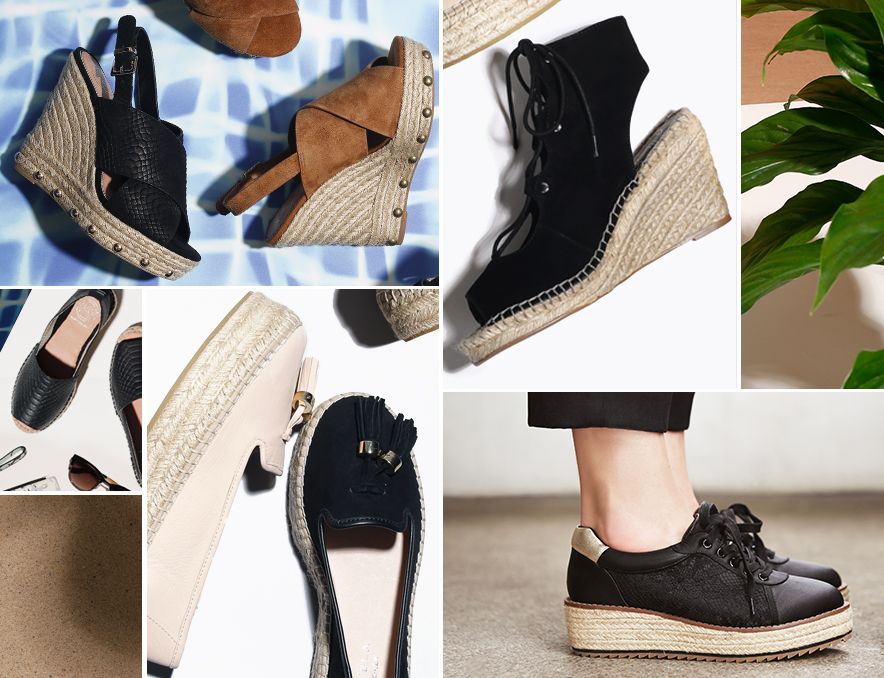 We are so happy that spring is finally here and we are fully prepared to pack away all of our winter clothes and start fresh. We have been waiting for the moment when we can finally put our winter boots in the attic and break out our summer shoes for what seems like forever. And what better than the modern naturals trend to look forward to? From poolside to party, trainers to wedges, the espadrille style continues to be our perfect warm weather companion.

Espadrilles are the quintessential summer shoes that look great with everything from a slip dress to denim shorts. These humble, rope-soled shoes, dating to the 13th century have proved their ability to stay relevant. We're going to take you through our favourite three styles of this timeless shoe.


Slip ons

It doesn't matter how many times the slip on espadrille is reinvented, our love for them will never end. From ankle ties and laser cut designs to flatform soles, their comfortable design appeals to all. Our bestselling Kurt Geiger London 'Blonda' espadrille made of luxurious embroidered Italian mesh is back, and ready to add a subtle and feminine finish to any outfit.

If you're wanting your espadrilles to do the talking, take a look at Carvela Kurt Geiger 'Kant'. This summer-ready, flatform two-part espadrille comes in a vibrant red print and matches perfectly with (if we do say so ourselves) the Kurt Geiger London 'Panama Hat'.


Wedges

The comfortable design of espadrilles doesn't need to stop at slip-ons. Turn to the trusty wedge for extra height which you'll be able to walk around in all day. To add even more 'I don't want to take these off', take a look at Miss KG 'Pineapple 2'. With their wide crossover bands to keep your feet secure and the espadrille base to provide a comfortable lift, these are sure to become your new summer favourites.

For a more nautical style, KG Kurt Geiger 'Marine' might be more up your street. Fresh and breezy, their lace up black suede and silver studs will add a more fashion-forward edge to your classic denim shorts and black tee combo. For added city style, pair with the Kurt Geiger London 'Croc Abbey Crossbody'.


Trainers

Our favourite espadrille has now ventured into the land of trainers and we couldn't be happier. Two of the most comfortable styles of shoe in one? Yes please! And being trainers doesn't mean you have to scrimp on style. With their sequin floral trim, Kurt Geiger London 'Langham' are sure to turn heads in only the best ways.

If you're loving this hybrid style but prefer a more classic look, KG Kurt Geiger 'Lush' is the one for you. Available in either white textured leather or black lace they are sure to become a staple in your day-to-day wardrobe.


With so many styles to choose from, we'd love to hear which is your favourite. Have your say through our Facebook, Twitter and Instagram.
Shop Modern Naturals