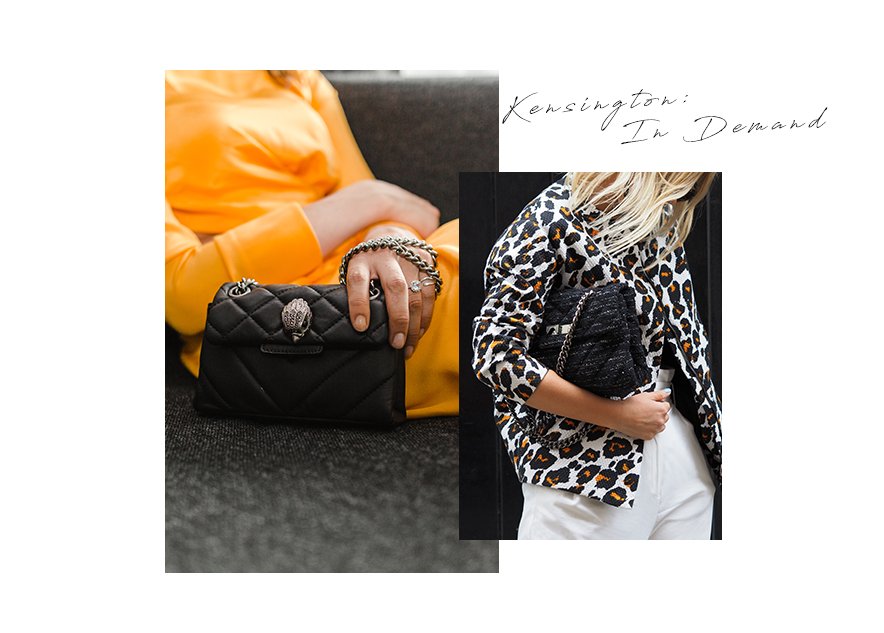 IT bags come and go. There was that Coachella-inspired fringed backpack we bought a couple of years ago, inspired by the likes of Kendall Jenner, before we realised that, well, neither were we Kendall Jenner, nor were we attending the desert-based festival. Then came the teeny tiny box clutch that we thought would nicely complement our wedding guest dress, that turned out could hold a single Murray Mint at maximum capacity. There have been good ones too. Ones we may even have carted around more than once. But every so often, a handbag comes along that's truly special. One so good, it ends up sticking around. It evolves, transcending fleeting trends, eventually becoming a constantly sought-after classic.


Enter the iconic Kensington bag. Our biggest selling piece of arm candy from SS17, which returns this season in a whole host of different shapes, shades and sizes. While we're on the subject, let's talk about size. Yes, it matters. It matters because right now, on the bag front, it's all things mini (not quite so mini that we find ourselves back in the Murray Mint debacle), but small enough that it can be worn as a chic evening bag, or by day, when the bare essentials are all you need. The 'Leather Mini Kensington' in black leather comes complete with the silver eagle head and chain, that have become synonymous with the Kensington collection.

Perhaps you were a fan of the original Kensington? This season it's been reissued, multiple times. In fuchsia, with a floral finish and ribbon top handle, in a black, floral fabric, not to mention the ladylike tweed versions in pale pink and blue, complete with pearl embellishment.



The beauty of the Kensington lies in its ability to make a statement, whilst fulfilling all your practical needs. There's even one for the office. Look no further that the 'Leather LG Kensington' bag here. Plain black and armed with slightly more subtle hardware, it's the sophisticated work companion you won't want to be without. Stocking up for party season? Try the tweed Kensington in silver. Never has a handbag so closely resembled the insides of Studio 54 circa 1970. Pair with an LBD and Kurt Geiger London's 'Suzette' sandals and you're good to go.

There is often talk of 'investment pieces' in fashion. More often than not, they're about as useful as a chocolate tea pot. Amongst a sea of pricey handbags that cost about the same as one month's rent (in central London), here is a seriously luxe, leather handbag, boasting style and timeless elegance, starting at under £100. And there's no catch. Just a super stylish eagle clasp that might even be making its way on to some Kurt Geiger jewellery later this season… watch this space!

Shop The Collection