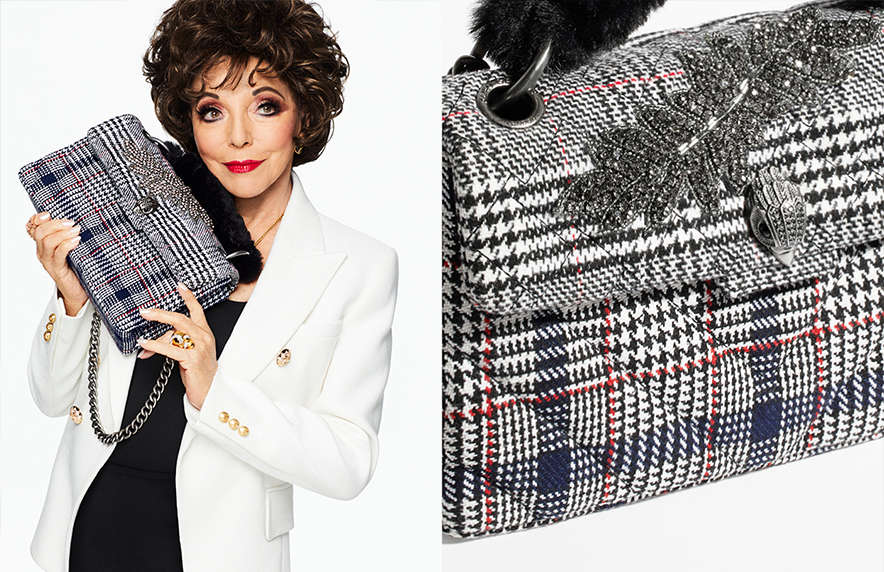 An exclusive interview with Dame Joan Collins, the British screen icon caught on camera as part of this summer's new Kurt Geiger campaign. There's nothing quite like a dame, after all…
Something unique happens to people's faces when they start talking about first meeting Dame Joan Collins; Creative Director of Kurt Geiger, Rebecca Farrar-Hockley, is no exception. In deep, blissful reverie discussing the encounter, her nose sort of squishes up, her smile stretches out as wide as a canoe and her eyes illuminate like an iPhone awakened in the dark. It's a look of pure exaltation; the face gymnastics (one imagines) of a Lotto winner.
"When I have an idea that seeds itself I find it very hard to shake it off," laughs Farrar-Hockley when I ask about her decision to cast the 85-year-old British actress and national treasure in the shoe and accessories brand's fresh new campaign. "I knew I wanted a British icon, and someone who would appeal to all generations. I thought the Queen would be good, although, perhaps a little unrealistic – I always aim high. Joan was always top of my list. I had three names and I never needed to approach the other two. We called, we asked, and wonderfully Joan said yes. I was over the moon."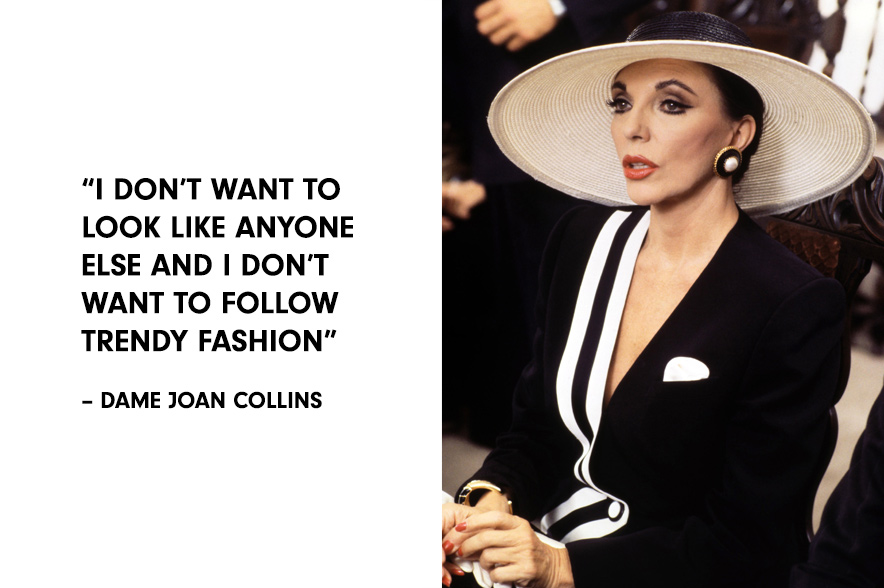 When the day came for Joan's shoot, however, no one quite knew what to expect. A big entourage? A white stretch limo? Shoulder pads the width of the Severn Bridge? "She arrived with no fanfare whatsoever," continues Farrar-Hockley. "No long list of demands, no flouncing. I don't know what I was expecting. I'd already been through the clothes with our stylist Sarah Richardson; I wanted her to be herself as much as anything so there was no big concept. When she arrived she was fairly quiet, not at all gregarious, although in front of the camera the difference was astonishing. The way she can switch on the glamour; it was a very special moment. We were done in 45 minutes – the quickest of the day, in fact. A consummate professional."
Yet has there ever been anyone quite like Joan Collins? With a career that stretches back to when she was only nine - appearing in Henrik Ibsen's play, A Doll's House - she went on to train as an actor at the Royal Academy of Dramatic Art, signing an exclusive contract with the Rank Organisation in 1950. Aged 22 she then put Hollywood in her sights, attracting industry heat for roles in films such as The Girl with the Red Velvet Slipper. Of course, if there was a singular part that would go on to define her profile, both in America and in Britain, it would be Collins' turn as Alexis Colby, the wickedly manipulative, scornful ex-wife of John Forsythe's character in 1980s soap opera Dynasty, a role for which she won a Golden Globe for Best Actress in 1982.
Today, Collins makes no secret of her acknowledgment of the significance of that part, and happily celebrates Dynasty's impact and cult status, not least due to its melodramatic fashions. So what were some of her favourite pieces from the show? "There are so many outfits I loved," she explains, "but the grey silk Jersey wrap dress worn with a cape and matching hat and boots is one of my favourites. Today, it would be too over the top to wear. What I enjoyed most, however, was collaborating on every single outfit with the talented designer Nolan Miller – we had a wonderful time and it felt less like work and more like play."
There's always been something quintessentially British about Collins; a rebellious, steely streak that floods into everything she does. That includes, of course, the curation of her own wardrobe and aesthetic. "[My style] is timeless and eclectic. I'm equally at home in a pantsuit and T-shirts as I am in a ballgown. I don't want to look like anyone else and I don't follow 'trendy' fashion or outfits that are geared towards the very young. I design many of my own dresses and costumes; I enjoy choosing all the fabrics myself."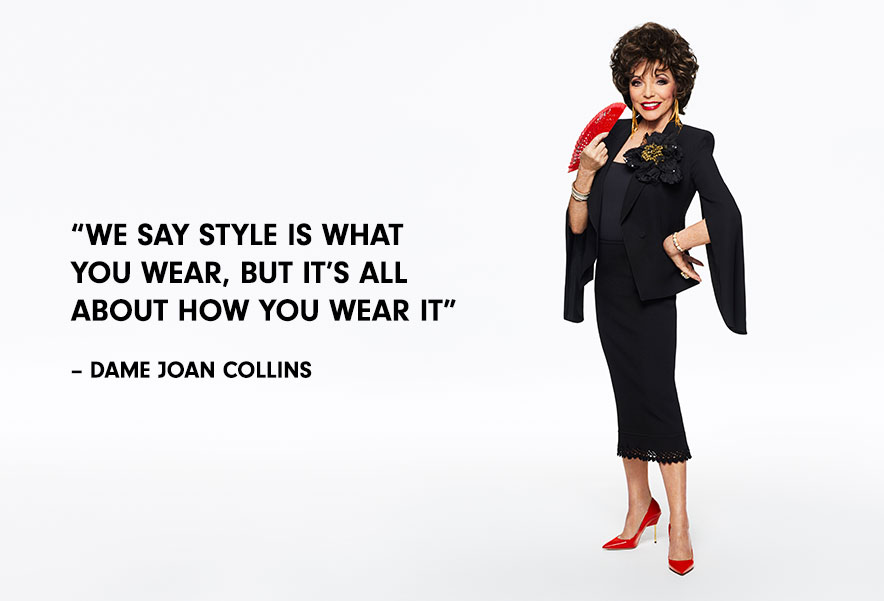 Has Collins always had strong sense of her own style, her own identify? "I started to feel confident in my teens," she goes on. "I eschewed pretty little frocks, which were the style of the time. I chose to wear black polo neck sweaters, and tight matching trousers or a full skirt and a wide belt to emphasise my - then - very small waist, with massive gold gypsy earrings. Tres Juliette Gréco!" As for whom might take on the task of portraying the actress in a film about her life, Collins flashes that distinctive acerbic wit without so much as a beat: "She hasn't been born yet!"
Collins chose to be photographed in Kurt Geiger's very own icon: the Britton, a high impact high heel with a sharp toe in glossy red patent leather. "I'd wear them with monochromatic dresses or suits. They are the definition of the versatility I look for – I could wear them to the Wolseley at lunch as well as the Chiltern Firehouse at dinner." Modern, adaptable, utterly glamorous and forever head-turning: the Britton and the Dame, an iconic pairing indeed.
SHOP AW18 NEW ARRIVALS